MakerBot Method Performance X 3D Printer
MakerBot Method Performance X 3D Printer
110

°C HEATED CHAMBER DELIVERS STRONGER MANUFACTURING-GRADE PARTS
Building on the success of the MakerBot Method, the Method X's extra capability heat-wise allows for a far wider range of materials open the World to even more possibilities.
- A Heated Chamber produces stronger parts than a heated build plate
- Achieve consistent strength in three-axis with recirculating heat on every layer
- Print real ABS, ASA, and PC-ABS with superior mechanical and thermal properties than modified desktop 3D printer formulations. 
OPEN PLATFORM FOR ADVANCED ENGINEERING MATERIALS
- Print with official MakerBot materials including Nylon Carbon Fiber, ABS, Nylon, PC-ABS and SR-30 – each carefully tested for thousands of hours to achieve engineering standards of printed part dimensional accuracy and strength.
- Access unlimited materials with an Open Materials Platform enabled by MakerBot LABS. Print advanced materials, such as ABS Carbon, TPE (flexible), PETG ESD, and PC
GUARANTEED PART ACCURACY AND SR-30 SOLUBLE SUPPORT
-Complex geometries that are impossible to print with advanced materials on a desktop 3D printer – Enabled by Stratasys SR-30 soluble supports
-The only printer in its class to guarantee finished part dimensional accuracy ± 0.2mm (± 0.007in). 
-Print complex assemblies that fit with tight tolerances – every time.
SAVE ENGINEERING TIME WITH AN AUTOMATED WORKFLOW AND CAD INTEGRATION
-Put an end to tinkering and time-consuming printer upkeep with the most streamlined workflow in the industry, including automated material handling, build plate levelling, and extruder calibration.
-Keep your projects moving and enjoy peace of mind with our leading in-house customer support and MakerCare machine hot swap.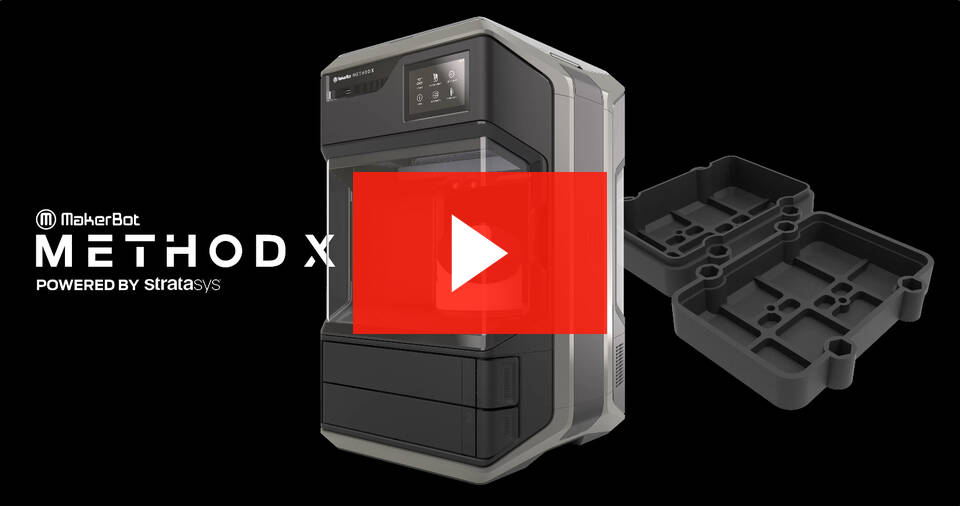 Part number: 900-0002A